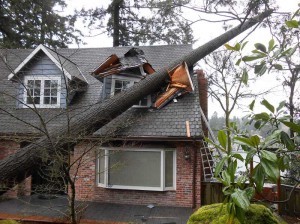 With the weather changing in Atlanta and an increase in rain falling trees seem to become a problem facing many homeowners. If you own a rental property in Atlanta or have a personal home you may want to brush up on a potential liability you may face due to one of your trees falling or a neighbors tree falling.
So what happens when a tree from your neighbor's property falls on your house or car? Who is responsible for paying the expensive repair bill or medical bills? The answer is a complex and often misunderstood aspect of Georgia's fallen tree responsibility law.
If you notice that your neighbor has some dead trees and or dead tree limbs, make sure you put them on notice, in writing, that you believe the tree to pose a danger to your property and request that the neighbor have the tree removed. If the neighbor is put on notice, the courts are much more likely to assign liability as they had notice that the tree posed a danger to neighboring property.
If a neighbor's healthy tree falls on your home, your homeowners insurance policy would respondto damage and debris removal. The same is true for their policy if one of your healthy trees falls on your neighbor's home. Again, your next door neighbor cannot be responsible for damages done by their healthy trees to your home. However, helping each other clean up would be very neighborly.
As a property owner you are held to a reasonable standard of care in regard to inspecting trees on your property which could potentially pose a danger to a neighboring property or a tenant in your Atlanta rentalproperty. It is a good idea to look around your property for any signs of rot or decay with your trees and look over at neighboring yards for the same.